Practical Implementation of Lipid Lowering for Cardiovascular Risk Reduction in Primary Care
Abstract
With the advent of safe lipid-lowering drugs, particularly statins and non-statin agents such as ezetimibe, and with the emergence of newer therapeutics such as monoclonal antibodies and RNA technologies, it has become apparent that major adverse cardiovascular (CV) events can be reduced both in primary and secondary prevention by 20–50% through lowering of low-density lipoprotein cholesterol (LDL-C) by 1–2 mmol/L. The purpose of this paper is to provide a pragmatic approach to the implementation of the 2021 Canadian Cardiovascular Society Guideline for managing dyslipidemia in adults.
References
Pearson GJ, Thanassoulis G, Anderson TJ, Barry AR, Couture P, Dayan N, Francis GA, Genest J, Grégoire J, Grover SA, Gupta M. 2021 Canadian Cardiovascular Society guidelines for the management of dyslipidemia for the prevention of cardiovascular disease in adults. Canadian Journal of Cardiology. 2021 Aug 1;37(8):1129-50. DOI: https://doi.org/10.1016/j.cjca.2021.03.016. DOI: https://doi.org/10.1016/j.cjca.2021.03.016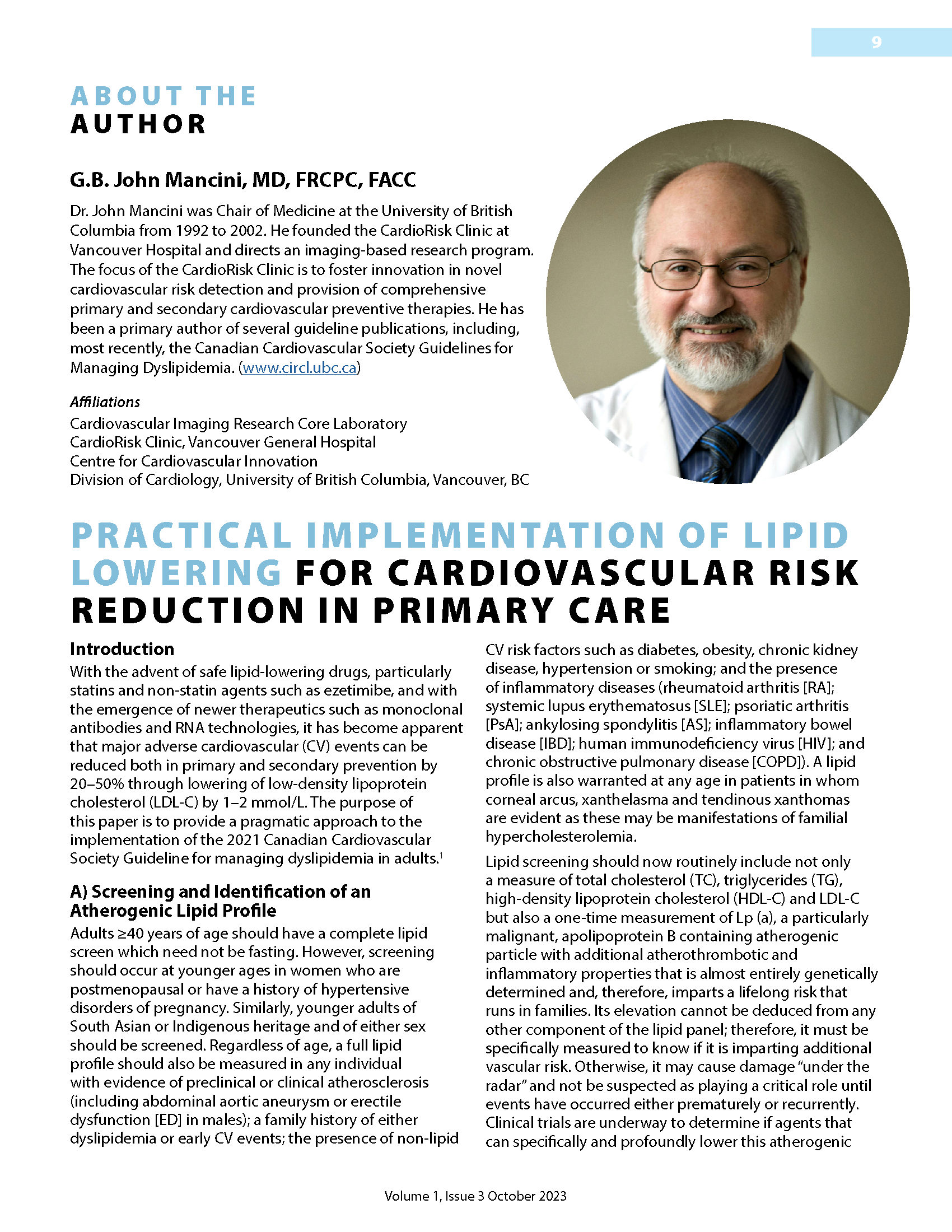 How to Cite
1.
Mancini GJ. Practical Implementation of Lipid Lowering for Cardiovascular Risk Reduction in Primary Care. Can Prim Care Today [Internet]. 2023 Oct. 25 [cited 2023 Dec. 9];1(3):9-15. Available from: https://canadianprimarycaretoday.com/article/view/1-3-mancini
License
Copyright (c) 2023 Canadian Primary Care Today
This work is licensed under a Creative Commons Attribution-NonCommercial-NoDerivatives 4.0 International License.